The art of making ghillie suits has been around for a long time. Whether you were hunting in the woods or fighting an enemy, camouflage was necessary to avoid detection.
You can take camouflage into your own hands by making your own ghillie suit. There are some critical steps that go into making a standout ghillie and it requires a lot of fine detail. 
This article will teach you how to make a ghillie suit and address some of the pros and cons that come along with making one.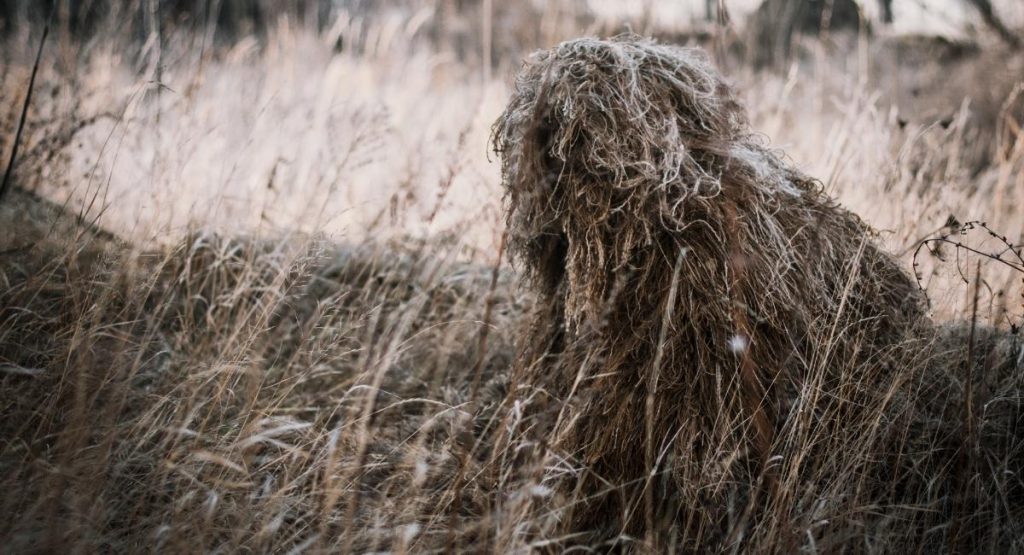 What is a Ghillie Suit?
A ghillie suit is a form of camouflage clothing used in sports like hunting and paintball. The suit is made out of burlap strips woven together to make netting. Nets are then dyed green, brown, black, and so on, depending on the environment you expect to be hunting in.
What You Should do Before Making a Ghillie Suit
Before making your own ghillie suit, it's important to research the terrain that you will be hunting or fighting in. For example, if you're using your ghillie suit for hunting deer, work on the suit's base color palette with browns and greens so that they blend into a forested area.
Terrain variance will also affect how your ghillie suit is created. For example, if you live in a snowy area, it's best to cover it with white so that the snow doesn't show through.
If you start your ghillie suit on the wrong terrain type, you will have to keep working on it until you reach the color pattern you need.
Keep this in mind when making your ghillie suit and it will help create the right look. Reading survival books will also help you learn various survival skills that will give you ideas on how to make a better ghillie suit. For more advice, check out our article on The Best Survival Books To Get In 2022.
MOPHOTO 5 in 1 Ghillie Suit, 3D Camouflage Hunting Apparel Including Jacket, Pants, Hood, Carry Bag Suitable for Unisex Adults (S/M/L/XL/XXL)
【Camouflage Design】Ghillie suit is designed as a protective clothing, as it allows people to blend into outer environment.
【Package Includes】 Pack of 5 in 1 Ghillie Suit includes hood, jacket, pants, gun wrap, and a stuff sack. Portable to get it into stuff sack enables to carry.
【3 Sizes Option】Youth Size: chest 34.65", sleeve 22.05", adjustable waist 28.35"-39.37", hip 43.31", length of pants 31.5". Size (M/L) Details: adjustable waist 25"- 48", pants length 43", shoulder 21", chest size: 40"- 50", sleeve length 35", jacket length 31". Size (XL/XXL) Details: adjustable waist size 25"- 48", pants length 43", shoulder: 21", chest size 40"- 50", sleeve length 35", jacket length 31".
【Wide Application】Tough and durable polyester and sdynthetic thread. Widely used for hunting, shooting, wildfowling, stalking, paintball, airsoft, surveillance, wildlife Photography, birdwatching, halloween and any other situations where you need deep camouflage.
Materials Required for Making a Ghillie
There are several materials that you will need before starting on your suit. The more sophisticated materials you have, the better it will be.
For example, if you can't get twine or netting to wrap around yourself when making the body of the ghillie suit, it won't look right and will fall apart when you begin to wear it.
For your basic materials, you'll need the following:
Netting
Twine or rope
Eyeballing tape (optional)
PVC pipe (optional)
Pair of scissors
Heavy-duty sewing needle
You can also make use of other items, such as:
An old shirt or pants you no longer wear
Leaves and sticks for the ghillie suit's foundation
Rocks to weigh down the foundation of your ghillie suit
How to Make a Ghillie Suit in 5 Easy Steps
Now that you know the basic materials for making a ghillie suit, let's go over the 5 steps you'll follow.
Step 1: Foundation
Foundation netting is one of the most important components in creating a ghillie suit. If done incorrectly, you will have to start all over again or your ghillie suit will be less than desirable when complete.
In order to create your foundation netting:
Take your netting and lay it out on the ground. You can use stakes or rocks to hold down the edges so that the netting doesn't move while you are working on it.
Create a symmetrical pattern with your twine so that it will be uniform throughout the foundation of your ghillie suit.
Once the twine is tied down, you can begin to weave your netting in and out of it.
Tip: As you're doing this, make sure that there are no spaces between the grass or weeds. The more uniformity of color, depth of color, and surface area covered by netting mesh, the better your ghillie suit will look.
Step 2: Prepare the Burlap
Now that the base of your ghillie suit is ready, it's time to begin covering it with strips of burlap:
Take out your burlap and roll it out on the ground next to your foundation netting.
If there are any tears in the burlap, sew a patch over them.
Cut the burlap so that it covers your foundation netting, but leave some extra room on each side so that you have something to work with later on.
If burlap isn't available, use natural-colored braided jute twine and split each braid into individual threads. Use only 4 or 5 strands of jute at a time. 
Old camouflage shirts, pants, coats, burlap, camouflage netting, and other materials can also be recycled, although they will not be as light as synthetic jute.
Pro tip: Keep in mind that adding strips of material, such as jute burlap and cotton, helps to break up an outline, but it also reflects your body heat back to you.
Step 3: Separate the Braids
Next, you will have to separate the braid of the burlap. This is very important because it makes each piece look like grass and weeds instead of just one big sheet of green that looks like a ghillie suit.
To separate the braids:
Grab hold of one end of your burlap.
Pull that end out to where it's straight, then fold it in half lengthwise.
Grab hold of one end of your burlap once again, but this time pull it out to where the center of the length is even with the center of the width. You can do this by eyeballing or measuring it.
Repeat this step for the other end of your burlap until you have a piece that is grass and weed-like in appearance.
Step 4: Tie the Burlap
Now that you've separated the braids on your burlap, it's time to tie them around the foundation netting:
Start by tying each braid onto the twine of your foundation netting in a crisscross pattern. You can use simple square knots to do this.
Once all the braids are tied onto the netting, you can tie them around the base of your ghillie suit to keep everything in place.
Step 5: Make the Ghillie Hood
Your ghillie suit is not complete without a ghillie hood, which completes your ghillie suit by giving it that signature camouflage appearance. Make it with these simple steps:
Take your burlap and lay it down horizontally in front of you.
Take your twine and lay it down vertically along the length of your burlap sheet. Make sure that the edges of both your twine and burlap are even all around.
Fold one end of the burlap over on top of itself by a few inches so that it is even with the twine.
Take both ends of your twine and tie a square knot around the base of where you folded over the burlap. Make sure to use a tight knot.
Do this on both sides of your burlap, making a crisscross pattern all around it.
Take your burlap and flip it inside out so that the seams are now on the inside.
Flip your burlap back over so that it is right-side-out again.
Lastly, fold the bottom edge of your burlap up about 2 or 3 inches to create a cuff at the bottom of your hood.
Your ghillie suit is now complete and ready for any kind of tactical situation!
The best survival backpacks serve as the foundation for your equipment. When it comes to tools and ghillie suits, having a dependable place to store them is essential. Without one, you'll be in serious trouble, so check out our The 13 Best Survival Backpacks (Updated 2022 Guide).
Making the Most of Your Ghillie Suit
Once you have your ghillie suit, there are a few different ways that you can use it to your advantage:
Cut your burlap fiber so that it covers the base netting in sections instead of one big sheet. This will make it look more like real grass.
If you want to use face paint, don't cover your hands with burlap. Face paint is very hard to get off and you will end up with weird-looking hands.
Once your ghillie suit is finished, tie the edges of your hood together so that it doesn't fly away in the wind when you're wearing it.
When out hunting, use it as a "hiding hole". Cover up the grass and weeds in an area where you would like to sit and wait for your prey.
Use it in a "stalking" position. Here, you will want to be on the ground or laying in some tall grass where you can see your target but not be seen by them.
In a survival situation, use it as a bedroll or a stretcher on which to carry your injured comrade.
Features and Benefits of the Camouflage Suit
Some of the features of the ghillie suit:
Lightweight and easy to carry around with you.
Durable and can be used in multiple situations.
Come in a variety of colors to suit your needs.
Non-restrictive.
Keep you concealed from your enemy.
Environment Where Ghillie Suits can be Worn 
A ghillie suit can be used anywhere that has a lot of grass and weeds around:
The woods.
Military and police training camps.
Forests.              
Places where snipers often hideout.
Grassy areas, such as golf courses.
Any outdoor environment that has a lot of grass and weeds growing around it.
When your surroundings are covered in grass and weeds, you're much harder to spot. For military training purposes, camouflage becomes extremely important because you don't want your enemy to see you coming. Not only would that result in the loss of lives on your side, but it will also put your soldiers at risk of being captured or killed by the opposing forces.
And of course, hunting snipers enjoy having the upper hand when it comes to camouflage because they know their prey has no idea where they're hiding.
Tips for Using a Ghillie Hunting Suit
When using a ghillie hunting suit for camouflage, take note of the following tips:
When you first put the ghillie suit on and it's not straight, fix it as soon as possible because it can unravel quickly.
Make sure your netting fits tight around all of your edges so it doesn't come loose.
Be very gentle when moving around in the ghillie suit.
If you're wearing a ghillie suit with face paint, make sure to wash your hands afterward because face paint will get on everything.
If you're a newbie, practice in your backyard before heading out to your hunting area.
Be sure to leave air holes so you can breathe comfortably and move around easily. The more comfortable the ghillie suit is, the easier it will be for you to blend in with your surroundings.
Use twine and burlap strips as much as possible because it will help to camouflage you and the ghillie suit. Some people use old burlap sacks instead of buying burlap twine because it's cheaper.
It is very important that your ghillie suit is well maintained. You can check out this article on how to maintain your ghillie suit
When to Avoid Wearing a Ghillie Suit 
You should avoid wearing a ghillie suit in the following conditions:
When it's raining, your ghillie suit will absorb most of the cold water and can weigh you down.
The ghillie suit design does not work very well under bright sunlight because the burlap comes apart easily, which makes it easy for your enemy to spot you. Though there are techniques you can use to block thermal imaging with your ghillie suit.
In cold environments, you have to bundle up your clothes, so your ghillie suit will be covered up most of the time. 
The ghillie suit won't work well under a cloudy sky or when it's snowing because these conditions create shadows, which makes it hard for you to blend in with the surroundings. 
Bottom Line
In conclusion, when you wear a ghillie suit, it's important to remember that your surroundings will play an important role in how well you blend in.
Always make sure that when you're sporting your ghillie suit, it's comfortable and there are no snags or holes in the fabric. Also, make sure that you maintain your ghillie suit and dry it out thoroughly if it gets wet and has a musty smell. 
Now that you've mastered the art of how to make a ghillie suit, keep reading to learn how to make a fire in the wild, or check out the best stoves for camping.