Opening your car is no easy task when you lose the keys or lock them inside.
This annoying situation comes with consequences. Locksmiths can charge a fortune to unlock cars, and replacements for lost key fobs are expensive, too. 
Below is our guide for how to unlock a car door with a bobby pin. Read on and get savvy!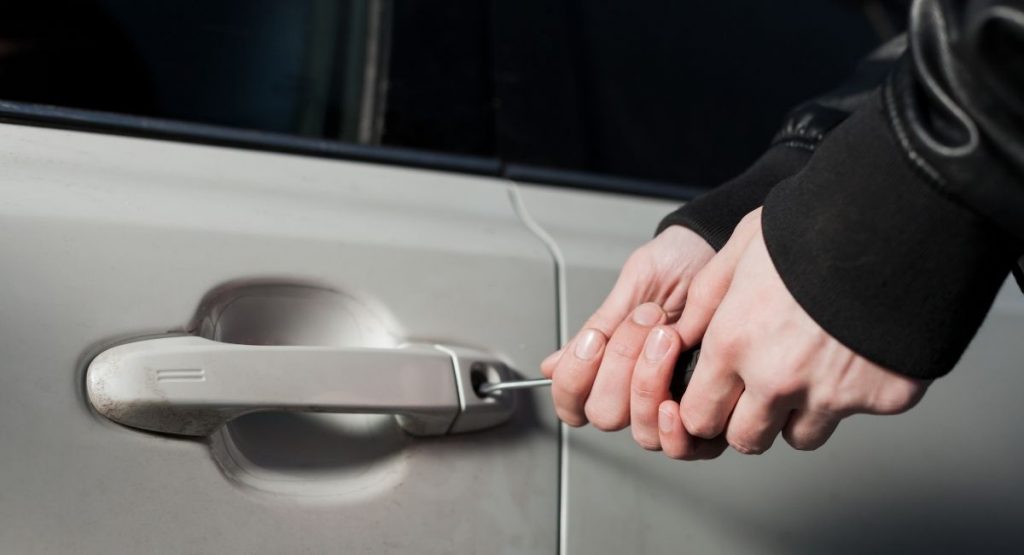 What's a Bobby Pin?
Let's start with the basics: a bobby pin is a type of hairpin, usually made of plastic or metal, which is used to hold hair in place. Bobby pins are great for doing your hair with braids. 
Bet you didn't know that these little pins do double duty: they can be used to quickly open locks on things like home, safes, and cars. That's because bobby pins are compact and sturdy enough to pick a car lock. Just remember: this method doesn't work for every type of vehicle.
It's worth picking up the trick, however, just in case you ever need to get into your locked car!
Disclaimer
This is a life hack alternative that serves as an aid in sticky and emergency situations. Since it destroys security systems, it must be intentionally positive in its usage. It shouldn't be used for dirty methods or some type of covert operation that's against the law. In other words, use your powers for good, not evil.
Sale
Bobby Pins, MORGLES Black Bobby Pins for Hair Bob Pins Bulk with Box 120 Count (Black,2 inch)
MUST-HAVE HAIR ACCESSORIES: Come with 120pcs bobby pins black, help you keep your hair neat and tidy anytime, anywhere. With a clear plastic box for storage and dust-proof, which is convenient for you to organize these hairpins properly and never lose them!
SECURE GRIP: Each bobby pins are with the crinkle in the middle on one side, can holds hair without slipping or loosening. Whatever hairstyle you make, they will hold them firmly giving you maximum comfort while wearing them.
PAIN FREE DESIGN: Made with comfort rubber tips for pain-free wear, which prevent hair from snagging and also protects the scalp from scratching while applying the pins. Comfortable to wear and easy to remove without pulling out hair.
PREMIUM METALLIC FINISH: These black hair pins are made of high quality matal, the surface is well-polished which gives a charming metallic luster. Rust resistant and no-faded, durable and not easy to deform. Can be used for a long time.
Getting Started: The Right Tools 
Alternatives
Instructions On How to Unlock a Car Door With a Bobby Pin
Step One
First, identify a small leeway where you can have access to the car lock.
You must also ensure your tools are safe and ready to use. Your bobby pin can't be rusty (it could break while trying it in the car lock).
Your wrench must not be clogged as it may hinder you from carefully turning your bobby pin to another shape for penetration.
 Step Two (Inserting Tension Wrench)
First identify the kind of wrench you're employing for this activity. If it's a straight wrench, make sure it's rigid, since the feedback (i.e. vibrations) it gives let you know whether you're on the right course of leveraging your car lock.
It's not advisable to use the twisty wrench as a beginner. It's stressful, don't try it.
Remove one end of a straightened-out bobby pin and slide it into the lock.
Station your tension wrench below the pin to serve as a wedge or enforcer.
 Step Three (Using Pliers)
Try stretching one of the bobby pins before turning it into an L-shaped pin.
Ensure the base of the pin lever is shorter and firmer than the longer side.
Avoid irregular bends on the lever pin, and don't hesitate to discard one or straighten it with pliers if need be.
Step Four (Inserting the L-shaped Bobby Pin)
Slide one end of the bobby pin into the lock so it can hold the tension wrench in place as a guide for your second bobby pin.
Insert other bobby pins with the bent tip facing up and slightly angled toward you to find where the pins are standing in the keyhole.
Press down on one end of the bobby pin with a slight torque while jiggling or pushing up with the gentle force on the other ends.
Find a notch in the lock and probe it with the wrench – pull out a bobby pin, straighten it again, and repeat the process until the door opens. 
Remember to keep the tension wrench in the lock as you turn the bobby pin or remove pressure from the tool completely, then try reinserting into the keyhole.
Insert your straightened out bobby pin into the keyhole, push it in gently until you feel firm resistance.
Gently turn the tension wrench clockwise while applying downward force on the bobby pin.
Some pins will easily slide up with your pick, while others will resist. Seized pins are pins that have resistance. Prioritize the pins with the most resistance. Find a stubborn pin and gently press down on the pick's handle until you hear a click.
Then turn the tension wrench clockwise while applying downward force on the bobby pin – this will move the lock's bolt and unlock your car door!
TEKTON Mini Pick and Hook Set (4-Piece) | 6943
Includes 1-pc. full hook; 1-pc. 45-degree pick; 1-pc. 90-degree pick; 1-pc. straight pick
Ultra-fine tips precisely probe, pierce, pry, pull, and position small parts in tight spaces
Soft, deeply textured handle grips offer a comfortable, nonslip hold
Knurled sections on shafts give an extra measure of fingertip control and maneuverability
Other Alternatives
If you're unable to find the tools required, then you can try out the following alternatives.
Using a Paper clip
If you have a paper clip, you can use it to unlock your car door when you are out of bobby pins! In this case, you need pliers or a bit of a straightening object to loosen the clips.
First, find and gather the materials needed for this DIY hack. They include pliers and 3 individual paper clips: the first to act as a torque wrench, the other as a natural pick, and the last as an air wedge. You could use a bobby pin either as complimentary or in place of a lock-picking clip.
Use the pliers to shape the two paper clips, one like a conjoined "NL-shaped" that would serve as your lock pick, while the other jumbo paperclip is enlarged into two straight wires with a curve at the end.
Insert your makeshift wrench at the shear line of the car door lock, and twist clockwise 90 degrees.
Turn the wrench in the normal direction needed for opening the lock. If you don't know the normal direction, try counterclockwise. When the wrench turns the right way, you'll feel less pressure.
Insert your makeshift lock into the tiny hole or extreme side of the lock and rake it. Raking here means inserting and removing your pick into the lock while wiggling the wrench to increase pressure.
Locate and depress lock pins in the car lock.
Wiggle back and forth until the door unlocks.
Sale
Paper Clips, 700 pcs Paper Clips Assorted Sizes, Large, Medium, Small #1 Metal Paperclips, 2 Inch Jumbo/Mini Silver Paper Clip for Paperwork, Home, School and Office Supplies
Assort sizes - The package contains 450pieces 28mm,200pieces 33mm and 50 pieces 50mm paper clips.Can be used for marking files of different types and sizes.
Rust-resistant & durable - The paper clips are vinyl coated, resist corrosion, smooth surfaces prevents snags or marks on papers.
Convenient storage - All sizes of paper clips lie in a plastic container with 6 separated compartments,easy access and keep your desk and drawer neat.
Multi-use - Suitable for office, school and daily use,also used for daily DIY, making bookmarks, photo albums, business card holders and envelope clips, etc.
Using a Butter Knife
Using the butter knife is an alternative for a torque/tension wrench. However, you must identify the kind of car lock you wish to open. In most cases, you may find it hard to use this on a car lock with small holes. The lock must be a pin tumbler. 
Insert the blade as far as it will go. Put it in the keyhole. Apply pressure in one direction, then the other. Wiggle the knife in the keyhole.
Take an unfolded bobby pin and use it with the knife by placing it at the top of your makeshift wrench. Always make sure it's flattened before use.
Turn the lock as if you were about to open the door with your lever. It won't go far, but the pressure is vital. Throughout the process, you must hold the lock, but not too much. You only need to move it slightly, but not enough to break the lock. Remember: the pins in the barrel must be loose enough to move up and down.
Always use the 90-degree angle to immobilize the car door.
Jiggle wire to find your car's sweet spot and wiggle back-and-forth until the door unlocks.
 If none of these methods works for you at first, don't give up! It may take some practice to master the right technique. Other alternatives, like credit cards, coins, etc, can also be tried. 
However, the bobby pin stands as the top alternative to getting this clever job done. However, when you're in doubt, don't risk damaging your door. Just hire a professional locksmith to open it for you.
Final Word
The essence of the bobby pin trick is to save you from going through unnecessary hassles or emergencies associated with lock picking or replacements. For instance, if you own an older four-door sedan or truck, this trick may get you inside without having to pay for costly locksmith services. In these cases, learning how to unlock a car door with a bobby pin may be the most affordable option.
However, it's also important to understand that this trick is not guaranteed to work on every vehicle type, especially cars with automobile locks. Know when to walk away: if you can't open the lock with a bobby pin or paper clip, it may be time to call professional locksmiths for help! 
Finally, our guide for unlocking your car door with a bobby pin must be utilized for survival or emergency purposes only, and not for sneaky criminal acts. For more information on survival tips and tricks, check out more posts to stay updated.