Water is essential for survival, and it can quickly go scarce in natural disasters and other emergency situations. The prepared survivor always keeps water on hand, but you need the right container for the job. Although large rain barrels are a traditional option, they are bulky, heavy, and are not built to be transported easily.
Water storage bricks are an efficient way to store water and save space doing so. Water bricks can be used for long-term water storage or for outdoor recreation. The two most popular water storage bricks are the AquaBrick and the WaterBrick. Although they are similar, each includes unique features that set it apart.
Water storage containers are a safe and convenient way to store water. In this article, we'll explore why to choose a brick water storage system before comparing the two most popular brands.
Why to Choose a Water Storage System
Although large water barrels are great when storing water for an emergency, smaller water storage containers offer several benefits in comparison. What works best for your needs will depend on how much water you want to store and how you plan to use it.
One of the greatest benefits of brick storage containers is that they are portable. Water is quite heavy, with one gallon weighing approximately 8.3 lbs. Rain barrels typically store between 15 and 55 gallons of water, which equates to barrels weighing from around 125 to 460 lbs. each. This works fine in a permanent set-up, but doesn't allow much flexibility otherwise.
Water bricks can be stacked to hold just as many gallons of water as a barrel, but the modular design allows them to easily be moved and transported. Even when filled with water, water bricks can be carried by most, and they're small enough to store in a car or RV.
Both AquaBrick and WaterBrick containers also come with carrying handles to facilitate transport. Being able to move your water supply is not only practical, but it also allows you to be prepared in more situations. After all, it is much easier to pick up and carry several water brick storage containers than it is to take a 35-gallon drum of water.
Lastly, water bricks are space efficient. They can be stacked securely on top of each other, or they can be stored in separate spaces. This increases the flexibility of use, even when storing water for the long-term.
When deciding whether a water brick storage system is right for your needs, ask yourself the following questions:
How do you intend to use your water storage system?
How many people are you storing water for?
How much storage room do you have and what will the space allow?
Next, we'll compare two of the most popular water brick storage container brands, the WaterBrick and the AquaBrick.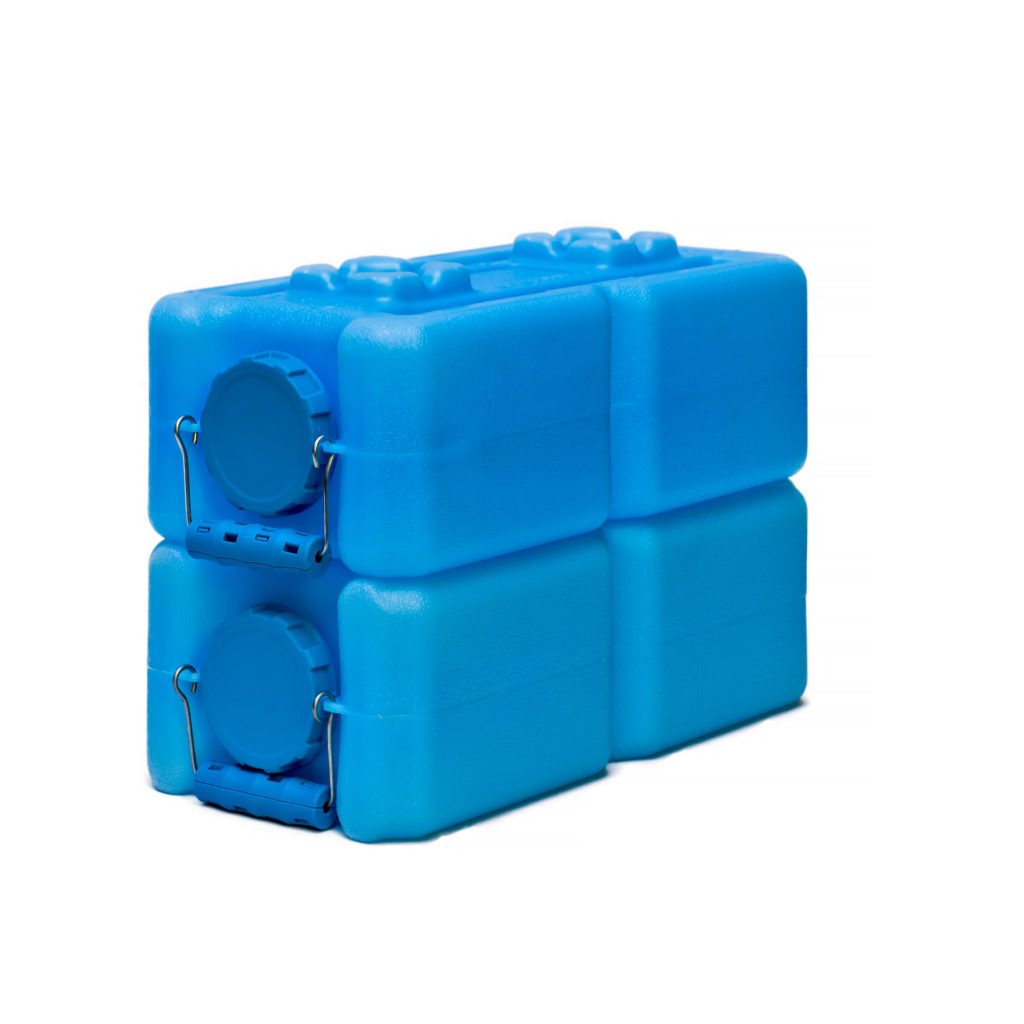 WaterBrick vs AquaBrick
Although the build and functions of the WaterBrick and the AquaBrick are as similar as their names, there are a few key differences that may make you choose one over the other.  Let's take a side-by-side look at the specs of each.
WaterBrick
AquaBrick
Size
18 x 9x 6 inches
18 x 9x 6
Volume
3.5 gallons
3 gallons
Weight (empty)
2.52 lbs.
2.36 lbs.
Material
HDPE
HDPE
Accessories
– Automatic Water Dispenser
– Spigot
– Replacement Handle
– Replacement Lid
– Replacement Gasket  
– Funnel
– Ventless Spigot and Cap
– Replacement Caps  
Price (2-Pack)
$37
$74.95
Size/Volume
The WaterBrick and the AquaBrick are close in size and in volume capacity, though the WaterBrick holds slightly more.
Each WaterBrick measures 18 x 9x 6 inches (LxWxH) and holds 3.5 gallons per container.
The AquaBrick also has a rectangular shape that measures the same as the Waterbrick at 18 x 9 x 6 inches (LxWxH). However, the AquaBrick only holds 3 gallons per container due to the design. While the WaterBrick has an attached handle, the AquaBrick has a built-in handle that takes away from the overall capacity.
Weight
A single WaterBrick container weighs 2.52 lbs. when it is empty and approximately 32 lbs. when it is filled to maximum capacity.
Due to the difference in build between the two containers, the AquaBrick weighs slightly less at only 2.36 lbs. when empty and approximately 28 lbs. when filled.   
Material
The AquaBrick and the WaterBrick are both made in the USA and have similar material specs. They are made from BPA-free High-Density Polyethylene plastic (HDPE) and are both, meaning they are durable as well as FDA compliant for drinking water and food storage.
Both containers are also made to preserve the integrity of what is stored. The plastic on both containers is UV resistant to keep water from evaporating and food from drying out, and both have a watertight seal to prevent leaks and spills.
Price
When it comes to the price, the WaterBrick comes in significantly lower than the AquaBrick, though these prices may fluctuate with time as well as where they are purchased.
A two-pack Standard WaterBrick bundle holds a total of 7 gallons of water and costs around $37. In contrast, a two-pack AquaBrick bundle that also comes with a spigot, but will only hold 6 gallons of water, costs more than double at about $74.95.
The difference is also noticeable with larger bundles. A 10-pack of WaterBricks holds a total of 35 gallons of water and costs around $185, while a 6-pack of AquaBricks holds 18 gallons and costs approximately $185.95.
Accessories and Packages
The AquaBrick and the WaterBrick can be purchased in several different container and accessory bundles. Whether you are looking for containers to take camping or are prepping incase SHTF, each offers different combinations to fit your needs.
The AquaBrick can be purchased in bundles of 2 or 6 containers, each of which comes with one attachable spigot accessory for easy water dispensing. Other options include the Emergency Drinking Water Kit, which includes 2 containers as well as a spigot and a complete water purification system.
Other available accessories for the AquaBrick include the following:
Funnel
Ventless Spigot and Cap
Replacement Caps
The WaterBrick has slightly more options that are designed towards maximizing your overall storage potential. Standard WaterBricks come in bundles of 2 or 10 containers and can be purchased in blue or tan. Half WaterBricks that can hold 1.6 gallons of water are also available and can be purchased as 2-packs.
There are also two bundles specialized for your pets. These 2 container bundles come with a blue WaterBrick and a green food brick, as well as two collapsible travel bowls. One of these bundles also includes an attachable spigot.
The other available accessories for the WaterBrick include the following:
Automatic Water Dispenser
Spigot
Replacement Handle
Replacement Lid
Replacement Gasket
Ease of Use
While it's easy to see that these containers are similar in many ways, their differences are specialized to different uses.
Each AquaBrick comes with two easy grip comfort handles. The handles are built into the design of the container and are thus strong, sturdy, and reliable. Having two handles also disperses the weight and makes it easier to lift and pour.
The WaterBrick, on the other hand, has a wire handle that attaches to one side of the container. An easy grip comfort handle wraps around the wire for easy carrying, but the handle does not aid in leverage or weight dispersion.  
Both containers are also stackable and can be configured in multiple ways to fit the available space. However, each includes different security features.
AquaBricks are made to stack on top of one another. There are two round notches to keep containers in place while also allowing the containers to be stacked in various configurations. The AquaBrick also features integrated grooves made to help keep the containers in place if you choose to strap them down. This can be especially useful when securing them to a vehicle, boat, or shelving unit.
The WaterBrick does not have integrated grooves for straps, but it instead features 2 interior conical reinforcement columns that help the containers stay in place when set on top of each other. Unlike the AquaBrick, these columns have male and female receptors for increased security. The containers stack in alternating directions, and they can be stacked up to 4-feet high.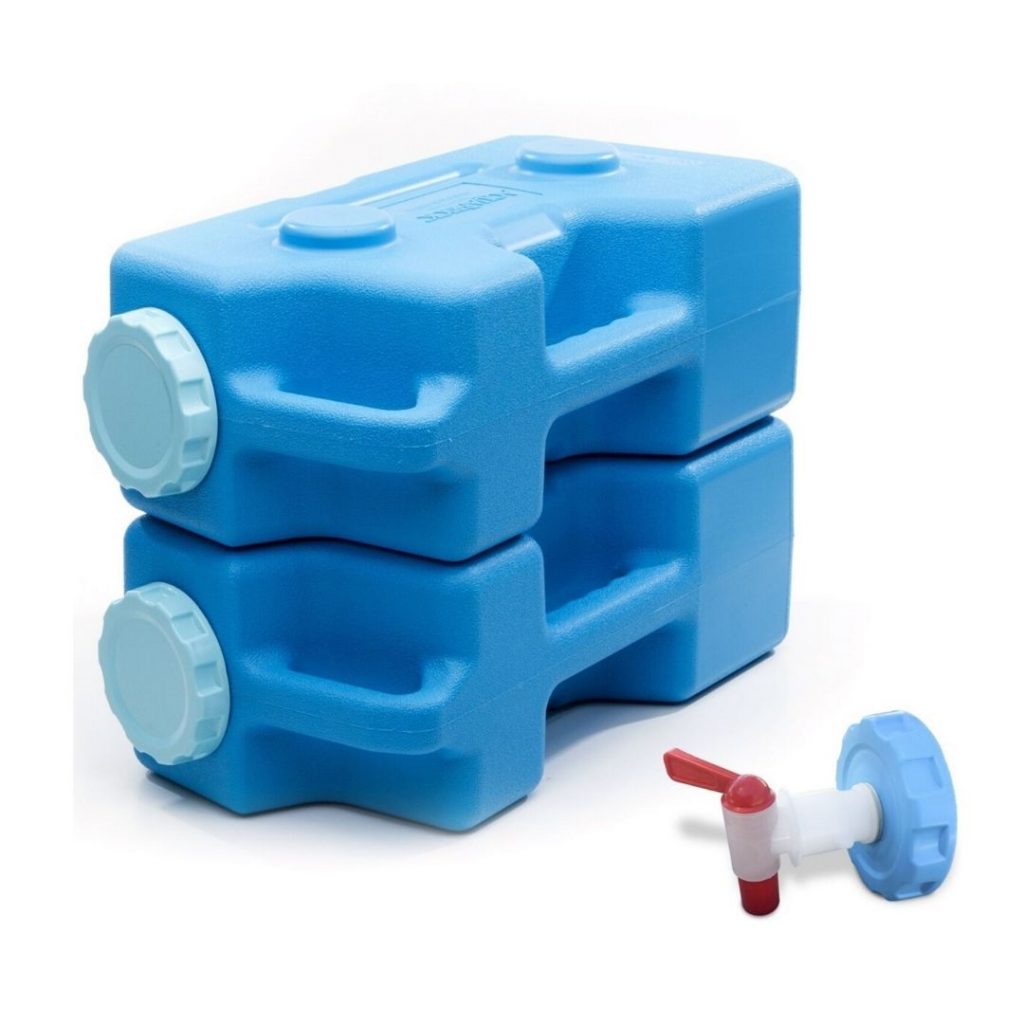 And the Winner Is…
Although the AquaBrick storage system can hold less water per container and has a significantly higher price tag, the sturdiness of the container and the versatility in its use make the price worth it.
AquaBricks are made for camping and other outdoor recreation, but they can just as easily be set aside for storage when not actively needed. The leverage gained from their sturdy double-handle design makes them noticeably easier to empty and transport than the WaterBrick, and the available accessories make filling and emptying the containers convenient.
Although the additional cost may not be warranted to those who are looking for a more efficient emergency water storage system, anyone who thinks they may use their containers regularly will likely appreciate how much nicer the AquaBricks are to handle.
Final Thoughts
When deciding which container storage system is right for your needs, consider your budget and how you plan to use the containers. AquaBrick and WaterBrick are similar in build and material and can be used for the same purposes, but their cost and their ease of use set them apart. Although AquaBrick tends to be more costly, their sturdy handles and the available accessories make them better for recreational purposes, while WaterBrick are cheaper and better suited for long-term storage.
Featured Image Curtesy of SAGANLife