Of all the things that can hurt you in a survival situation, the regulation of body temperature is right near the top of the list. If your temperature goes up or down just a few degrees, it could cause serious and even permanent injury.
An emergency blanket is an important piece of survival gear that is used for regulating body temperature in emergency situations. To learn how to use emergency blanket, how it works, and situations where this garment could save your life, please read on.
What Exactly is an Emergency Blanket?
An emergency blanket, also known as a space blanket or mylar blanket, is a compact, lightweight insulator that is used in emergencies or survival situations. Due to being small in size and lightweight, emergency blankets are often used by search-and-rescue teams and included in survival kits.
The blankets are made from a thin piece of metal coated in plastic, which forms into a heat reflective material. They're easily recognizable because they look like a thin piece of tin foil, but have a consistency similar to heavy plastic wrap.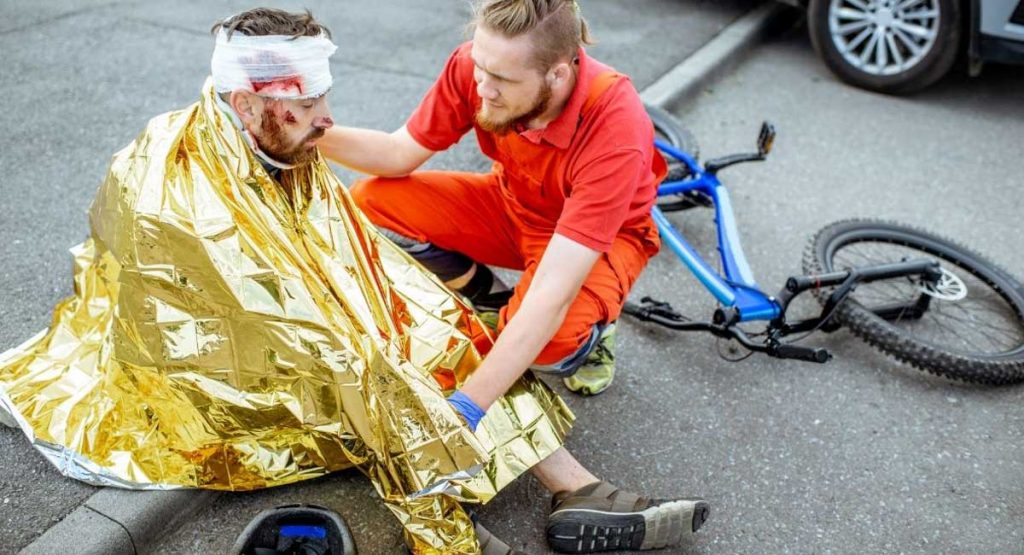 Emergency blankets have a silver or gold chrome-like finish, so they can't be missed. You may have seen emergency blankets being used on news footage after an accident or a sporting event such as a triathlon.
You've also probably seen the same material used on spacecrafts because of their lightweight insulation. In fact, the mylar material used for emergency blankets was originally developed for the space program, which is how they got the nickname space blankets.
Sale
How Does an Emergency Blanket Work?
Emergency blankets work by blocking and capturing up to 90% of your body's radiant heat and using that heat to create a layer of warm air around you. Of course, that's how a normal blanket works, but the emergency blanket is unique because of how thin and lightweight the material is.
The reason the blanket has a reflective surface is because it reflects infrared light (heat) back onto your body.
Emergency blankets are also dual-use. Along with reflecting and trapping the body heat from a cold person, emergency blankets can also be used to deflect heat from the sun to keep you cool.
The blankets are also waterproof, which provides additional protection against adverse weather conditions. This can prove very useful if you find yourself stranded in bad weather.
How to Use Emergency Blanket
We will cover a few different scenarios where using an emergency blanket might save your life.
Scenario 1: Stranded in Cold Weather
Imagine you're out hiking alone, far from civilization, and you happen to take a fall into a river and soak all your clothes. Now you're stranded in a cold environment and all your clothes are wet. Your survival now depends on staying warm and avoiding hypothermia.
Ideally, you packed extra dry clothing in a waterproof bag, but, if not, you need to move quickly to avoid disaster. If you have an emergency blanket with you, it can save your life.
First, you need to build a fire. Next, you need to strip off your wet clothing and cover yourself in your emergency blanket. If you keep your cold wet clothes on, they will block your body heat and defeat the purpose of the blanket.
Now, you can lay out your clothes near the fire and wait for them to dry. Once you get dressed again, you can continue to use the emergency blanket either as a covering, a makeshift sleeping bag, or as a reflector to boost fire heat.
If you didn't have the emergency blanket in this scenario, you would be in serious danger of hypothermia, which could potentially kill you.
Scenario 2: Injured Friend
In this case, imagine you and a friend are out hiking in the woods. On this day, you decided to leave most of your gear at the campsite while you take a day-long trek up a nearby mountain. While on the route, your friend takes a wrong step, falls, and breaks their ankle.
At this point, the best thing you can do for them is head back to the ranger station and get help. The problem is that it's getting late and the temperature is dropping fast. If you leave them there, they could become dangerously cold while waiting for help.
Luckily, the emergency blanket can save their life while you seek assistance. You need to create an emergency bivy sack to preserve as much of their body heat as possible. This is especially important in winter temperatures.
First, unfold the blanket and lay it out on the ground. Ideally, you should do this somewhere soft in order to provide additional insulation (e.g. a bed of pine needles). Next, lay your friend diagonally across the square blanket. Now, wrap them up. Be sure to include their head, especially if they aren't wearing a well-insulated hat.
Use tape or whatever else you have to secure the blanket so it won't accidentally come untucked while you're gone. Remember, the insulation only works if it traps body heat. If the blanket opens, the heat will escape, and the blanket will be useless.
This will buy your friend enough time for you to make it back to civilization to get help. Remember, even if you're out on a short, safe hike, it can quickly turn dangerous. Always carry an emergency blanket with you when you're in the wilderness.
Scenario 3: Lost in the Desert
Imagine you're out mountain biking through the Arizona desert. You take a particularly long jump and it destroys your front tire. You're miles away from civilization and all you have is a single water bottle and an emergency blanket. You have no choice but to walk back.
But, it's way too hot to try to walk back now, so you decide to walk at night instead. It also happens to be a full moon, so you'll have plenty of light to guide you. However, now you're stuck for hours in the blazing sun without shelter.
Your emergency blanket can help you here as well. The critical thing to remember in this situation is that you don't want to wrap the blanket around you. Yes, it will block the sun's rays, but it will also trap your body heat, which could lead to hyperthermia.
Instead, use your bike as support and attach your emergency blanket in order to create a makeshift shelter. As the mylar material is highly reflective, it will block the majority of the sunlight, allowing you to survive the afternoon and avoid any heat-related danger.
When the sun sets, detach your emergency blanket and walk back to civilization. It's very important to always bring the blanket with you when traveling in the desert because deserts are cold at night and hot during the day. Without the blanket, you risk hyperthermia during the day and hypothermia at night.
This is another example of how an emergency blanket can save your life.
Scenario 4: After a Race
You just finished your first marathon ever. It took everything you had to shave off that extra 10 seconds and make it across the finish line. You're dehydrated, soaked with sweat, and it's getting colder outside because the sun just set.
At this point, your body is in a compromised position and you may not have the ability to stay warm under these conditions. Lucky for you, a race volunteer hands you an emergency blanket and a cup of Gatorade. You wrap the blanket around yourself and start to warm up.
It may seem like overkill, but hypothermia can creep up on unsuspecting victims, especially those in a depleted state. This is just another great example of how an emergency blanket can save you in a jiffy.
Scenario 5: Everything Else
While emergency blankets are primarily designed to keep you warm in cold conditions, the material can serve numerous other functions in the event of an emergency.
Since mylar is strong, despite being lightweight, it can even be used to create a makeshift splint to stabilize an injury or secure a load. The material is also waterproof, so it can easily function as a makeshift raincoat or shelter. This also gives it the ability to collect rainwater.
The list of uses of this handy device are nearly endless, especially considering how little space it takes up in your bag. We recommend carrying at least two with you before heading off into the wilderness.
Sale
World's Toughest Emergency Blankets [4-Pack] Extra-Thick Thermal Mylar Foil Space Blanket | Waterproof Ultralight Outdoor Survival Gear For Hiking, Camping, Running, Emergency, First Aid Kits [Camo]
TOUGHEST EMERGENCY BLANKETS ON EARTH – Exclusively from Don't Die In The Woods, our HeatFlex mylar is thicker and more flexible than ordinary space blankets. Combined with durable packaging designed ultralight & compact for outdoor adventures, you won't find tougher mylar emergency blankets anywhere.
DURABLE + ULTRALIGHT + COMPACT – No other space blanket comes close to our ultra compact, durable storage - the perfect balance of durability & light weight at only 12 oz/set (only 2.5 oz/blanket). You can stash single blankets (in ripstop stuff sacks) anywhere, or carry enough for your whole group in the included zipper pack with carabiner.
PERFECT FOR HIKING, RUNNING, & FIRST AID KITS – NASA-designed mylar is waterproof and reflects up to 90% of body heat to help prevent hypothermia for cold, wet, or hot weather survival situations. These thermal foil blankets are a must-have for camping, trail running, marathons, 48hr/72hr/30 day go bags, tactical gear preppers, earthquake survival kits, home emergency, and car first aid kits.
RELIABLE MATERIALS FOR SURVIVAL SITUATIONS – Other space blankets are made cheap in ziploc bags for one time use. Ours are built tough to be there when you need them. Stash these tactical blankets everywhere – your car, roadside emergency kit, survival kit, first aid kit, bug out bag, zombie survival kit, and camping gear. With a little tape and paracord, these XL mylar heat sheets can be converted into an emergency shelter, emergency sleeping bag, emergency bivy, or other survival gear.
Final Word
By now you should have a good idea of how to use emergency blanket and the situations where it could be especially helpful. While this garment is small and lightweight, it could easily be enough to save your life in a survival situation.
Wherever your adventures take you, don't forget to add an emergency blanket to your kit!