Learning how to store rice long term ensures that you have a food source ready for when your rice runs out, or if there are shortages of rice due to natural disasters or political catastrophes. 
This post will not only walk you through what storage systems are, but how to identify the types, and best options and tips on storing rice long term. So let's go!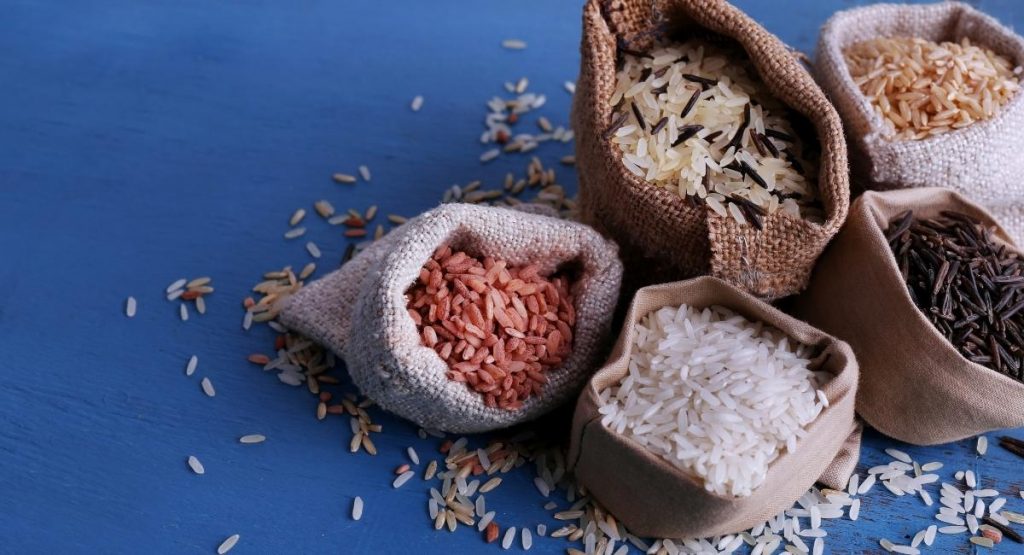 What is a Rice Storage System?
A rice long-term storage system is a process that rice has to go through to prolong its shelf life. Rice can be stored for years if the long term storage process is done right.
It's helpful to learn how to store rice long term because rice lasts a long time and it is low in fat. Rice also has enough carbohydrates to be one of your main food items.
To ascertain whether a storage system is best for storing your uncooked rice and other food products, three conditions must be met:
Ability to accommodate moisture level of storing rice grains at 14%, and seeds at 12%
Ability to protect from birds, rodents and insects
Ability to protect from rain or moisture in the air
Types of Long-Term Storage System
Rice storage facilities come in a variety of configurations, based on the amounts of rice to be stored, the purpose, and the storage location of the store. Storage methods include bulk, bag, and hermetic containers.
Bulk Item Storage
Silos
This works for large scale storage of varieties of rice and other types of food products. In this case, large pounds of rice grains cultivated from the farm are taken here for storage.
Large export mills and collecting buildings occasionally employ metal or concrete silos. These silos hold between 20k and 30k tons. As a result, less grain is wasted and spilled during fumigation.
Rice Containers and Food-Grade Buckets
Food-grade buckets and an airtight container with gamma seal lids are the most affordable long-term storage option. These can be purchased in bulk or individually, and come with a reusable O-ring that reduces moisture contents to make an airtight seal. However, they don't contain oxygen absorber packets for rice.
Bulk rice is the least expensive long term rice storage option, but it requires more space to store and can result in rice loss if not kept safe from rats or mice. Rice stored in bulk should be placed inside food-grade buckets or containers with gamma seal lids to reduce moisture and keep it safe from pests.
Other containers for rice include glass jars and plastic buckets, but they're not suitable for storing rice long term, especially if its uncooked.
5 Gallon White Bucket & Gamma Seal Lid - Food Grade Plastic Pail & Gamma2 Screw Seal Tight Lid
STURDY | 5 gallon 90 mil bucket made from FDA compliant material (food grade)
SAFE | High Density PolyEthylene (HDPE) is FDA compliant (food grade) and is not a candidate for BPA (BPA Free)
READY | Gamma Lids shine for daily or easy access dry storage
We are Gamma Seal Fans. However, as much as we like the ingenious Gamma Seal, we do not recommend them for long term food storage or liquid applications.
Bag Storage
Jute Bags
These are a satisfactory alternative for storing your long-term food supplies. Cheap, readily available, and easily expandable, jute has the ability to repel moisture, provided the area is not exposed to lots of water. Aside from protecting against moisture, they can also be specially treated to protect rice from pests, including mice, rats, and insects.
However, its storage life is not that impressive and it's prone to insect infestation, hence the need for treatment.
Jute bags don't require any special equipment and bags can be stacked on one another for easy storage. Just ensure that you label bags with contents and date of packaging. 
Greenmile Organic Cotton Reusable Produce Muslin Bags Set of 9 (3 each of Large, Medium, Small)
ORGANIC COTTON: This set of nine Greenmile vegetable bags for refrigerator features super strong overlock stitching that ensures your reusable produce bags will hold together under stress; For premium cotton bags for vegetable storage that are tough and practical, our cotton produce bags are the solution.
OMPACT: In small, medium and large sizes, our produce storage bags can be easily rolled up or folded to save on space; These zero waste cotton bags for vegetables storage are washable and lightweight, meaning you'll barely notice our reusable cotton vegetable bags for fridge when they are stuffed into your pocket.
STRONG: The double drawstring of Greenmile vegetable bag, means that our vegetable storage bags for fridge eco friendly are more durable and practical than inferior market bags; Our cloth bags with drawstrings are also more comfortable than single string reusable bulk bags
SUPER SOFT: Other fridge bags for fruits and vegetables are scratchy and unpleasant to touch; Greenmile cotton vegetable covers to keep in fridge are pre washed and crafted from unbleached cotton, meaning our cloth shopping bags are ultra soft; Best of all, we guarantee no more than five per cent shrinkage in the wash
Zip Lock Bags
A plastic zip-lock bag is a cost-effective way to store rice long-term. You can buy them in bulk or individually, but it's important to be mindful of the size.
Use a gamma lid to seal the bag and prevent moisture from entering your container when you have finished sealing it. 
Hermetic Containers
This type of long-term rice storage is the most expensive option for storing uncooked rice and other types of food products.
Hermetic storage is an excellent source of storage and it is based on the concept of a modified atmosphere in which the oxygen levels are depleted to the point where insects and other microbiological organisms capable of causing damage to stored commodities can't survive.
The goal here is to create an absence of oxygen which in turn saturates the container with carbon dioxide as time goes on. This is the best way to store rice because it keeps moisture and insects out while allowing excess oxygen to escape through vents. 
Bonus points: hermetic containers also help preserve the aromatic taste, freshness, and color of food. 
Wildone Food Storage Containers, Airtight Cereal Storage Containers for Sugar, Flour, Snack, Baking Supplies, Leak-proof with Black Locking Lids - Set of 4 (4L /135.3oz)
🎁 [SET INCLUDES] This set comes with 4 pcs BPA free airtight storage containers with Black locking lids, 20 pcs reusable chalkboard labels, 1 measuring cup and 1 blue chalk marker, allowing you to organize your kitchen and pantry like never before.
👍 [HIGH QUALITY & CLEAR] Made of high-quality food grade plastic, BPA free, contain no harmful substances. The clear storage containers body are durable enough for long-lasting use, you can quickly see what inside just at a glance. The premium quality make these easy to clean with hand wash or dishwasher safe.
⭐ [LARGE CAPACITY] Each food storage container has a capacity of 4L / 135.2oz, 16.9 cup, and length is 8.86inch, width is 3.35inch, and height is 9.45inch. Large capacity, suitable for storing flour, sugar, rice, nuts, beans, cereal, snacks, pet food, or anything else you may need to store.
💯 [AIRTIGHT LID SEAL] Compared with other storage containers, ours add Silicone Seal Ring on the pour spout, which enhances the airtightness and watertightness of these cereal storage containers. The 4 Sided-Locking Lids with Silicone Seal ensure that no air or water enters in, keeping your cereal super fresh.
Best Options for Storing Rice
The main rice long-term storage options are:
Oxygen Absorbers
These are iron powder packets. When placed in an enclosed environment, such as a jar or bag, iron absorbs 99 percent of the oxygen it encounters. Consequently, the leftover gases are absolutely inert and do not oxidize food. Oxygen absorbers remove oxygen from the container to keep rice fresh for a longer period of time. With this preferred method, rice will stay fresh for up to 30 years.
Oxygen absorbers aren't needed if rice is stored in Mylar bags with O-rings or food-grade buckets or containers with gamma seal Lids.
Mylar Bags with O-Rings
Rice storage bags are made of metalized plastic with vacuum sealer perks and can be used long-term without oxygen absorbers because they act as a barrier to both light and oxygen. As long as the rice is stored in Mylar bags that are properly sealed with O-rings, rice will stay fresh for a long time.
These bags come individually or in a container kit with O-rings and gamma lids. They can be purchased online from various retailers or in bulk and are best for long-term storage. 
The quality of the Mylar bag is important to keep rice safe and fresh over time because it acts as a barrier between oxygen that can cause damage to your food or promote mold growth. You can also use these bags in combination with gamma lids to store other dry goods, like sugar.
Boao 100 Pieces Mylar Bags Smell Proof Bags Resealable Bags for Small Business with Clear Window Holographic Bags for Food Storage and Lip Gloss, Jewelry, Eyelash Packaging (Black, 3 x 4.7 Inch)
Resealable zipper: you can either manual seal zipper part, or you can heat seal the open top section above the zipper, so that achieve storage effect, and these food storage bags can be applied many times
Convenient to use: just open and seal, very easy to use for packing and storing, transparent window design allowing for a quick glance at contents inside, please make sure to close the zipper seal tight to prevent leakage and ensure freshness
Material and size: these resealable bags are made of polyethylene material, non-toxic and reliable material, you can put items in them safely; We provide you with several size selections, can meet different demands, please refer to the pictures for detailed information, please check the size carefully before placing an order
Wide applications: very suitable for packing coffee beans, bath salt, candy, pill, sugar, rice, cookie, tea, nuts, dried fruit, snacks, popcorn, beef jerky, or other food you want to store
Food Grade Buckets or Containers With Gamma Seal Lids
Food grade buckets and containers with gamma seal lids are the most affordable rice long-term storage option. These kits can be purchased in bulk or individually. 
They come with a reusable O-ring to make an airtight seal, but keep in mind that they don't contain oxygen absorbers to promote rice freshness, as Mylar bags do.
Tips on How to Store Raw Rice Long Term
How can you get the longest shelf life from your stored food?
Normally, when rice is stored long-term, it can last for an incredibly long time. Rice that is kept in a cool and dry place will stay good for up to 20 years! If rice has been frozen or dried, it can keep even longer. In fact, rice may be the only food on the planet that can be stored for so long. 
The best tips for storing rice long term are:
It's best to store rice in either an airtight container or a sealed bag. Keep rice away from humidity and moisture, as these elements will cause it to go bad faster than anything else could do. If you have rice stored at home that's older than two years, we would recommend using it for rice cereal instead of long-term rice storage.
If you're storing rice, make sure to buy food grade bags that will keep rice fresh and safe! Avoid any bags or containers made from plastic that may have come into contact with water at some point in time because they can cause moisture problems.
When it comes to storing rice in bulk or other food types, to get them ready for a disaster or other emergency situation, there are two primary goals: keep the food safe and keep the food fresh. That's why you need to know how to store rice long-term in a variety of different ways. 
Storage rice bags should also be placed inside rice buckets or other long-term food storage containers to make sure rice remains fresh for a long time. 
Other than storing rice in airtight containers, the rice should be stored away from light and heat sources because it will cause the rice to lose its quality over time.
It's a good idea to check on rice regularly. If bugs are present or moisture is noticed in the rice bag, the entire container should be thrown out immediately. 
Last Words
Whether you have a craving for brown rice, Basmati rice, or other rice recipes, this grain is a great pick for long-term storage because it can last for an impressive 20 years, or even longer.  
Just remember: it's essential to store rice in air-tight containers or sealable bags and keep them out of humidity as well as away from light sources so the rice doesn't lose quality over time. 
Now that you know all about how to store rice long-term, check out our article on the best meal ready to eat (MRE) for 2021.