Having a break-in occur in your home can be a very traumatic experience. It's sometimes all you need to feel unsafe and move away from a particular area. To avoid this unpleasant scenario, one thing you can do is learn how to secure a door from being kicked in.
With this preventative measure, you're one step closer to making your home a less attractive target for criminals, intruders, and creepers.
Now, everyone knows that if you have well-built exterior doors, you're less likely to suffer a home invasion. That being said, if you want the peace of mind that comes with knowing you have the highest level of protection, you can't afford to stop there.
In this article, we'll look at some of the most efficient ways to ward your home from forceful entry. These tactics will give your space that extra layer of security it needs.
While you can get in touch with any number of security companies to put these features in place, you can also take care of it yourself. For people who like to work with their hands, implementing these features themselves offers a real sense of security.
Without further ado, here are some of the most efficient ways to get additional security for your home.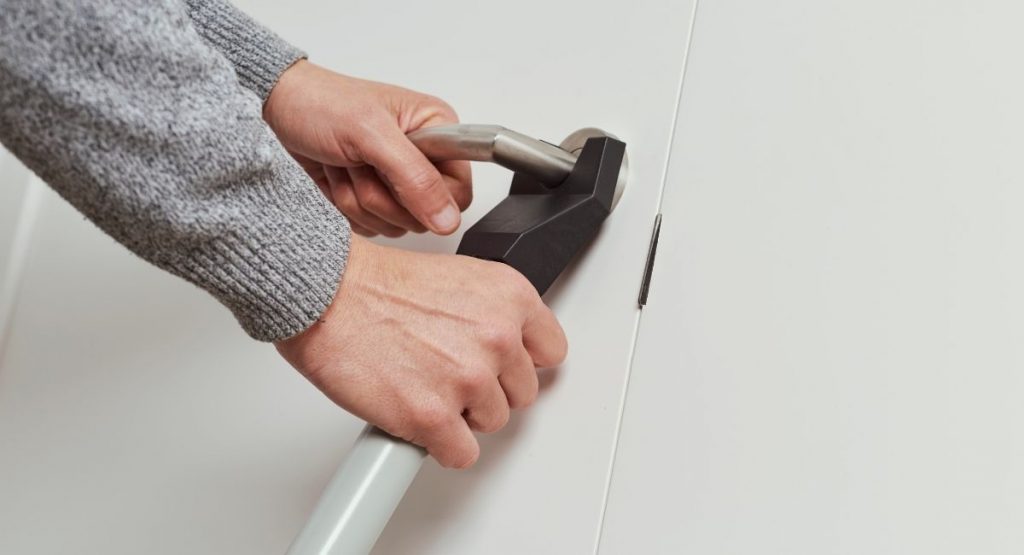 How to Secure a Door from Being Kicked in
Forceful entry has always been the favorite route of access to homes for intruders. Since the advent of the COVID-19 pandemic, things have gotten even worse.
Homes continue to remain a prime target for criminals. What's more, this problem has spread to businesses, as well.
Hamilton businesses recorded over 100% more break-ins during the COVID-19 pandemic. Other areas, like Kamloops, echoed these statistics.
In light of this, here are five of the best ways to give your space that extra security today!
1.   Get A Quality Deadbolt Strike Plate
If you still use a traditional cylinder lock, then you're essentially inviting criminals to take a crack at your home.
Even with only basic lock-picking skills, a cheap cylinder lock can be forced open. This makes the lock useless where security is concerned.
However, the story is different with a quality deadbolt strike plate.
The powerful safety mechanisms that this tool offers give your home that much-needed extra protection. A standard strike plate is a tough target even for determined locking-pickers. It's pretty hard to destroy this strike box plate with brute force, as well.
To get the best value from your deadbolt, you need to install the strike security plate on the door jamb properly. There are various types of strike plates. If you want the most reliable strike plate, it's a good idea to invest in a metal box strike plate.
In the absence of these, an elongated strike plate can also boost the security of your exterior doors.
To further improve the layer of protection on your exterior door, you have to consider its hinge pins. Hinged doors require extra protection. Even with well-installed French doors and metal doors, the hinge pins can be used to gain access to your home.
So, to prevent that, you need to install sturdy hinge bolts, which are even more necessary if your wooden doors open outward.
You can also complement the hinge bolts with hinge shields to get even better security.
Sale
Defender Security U 10827 Door Reinforcement Lock – Add Extra, High Security to your Home and Prevent Unauthorized Entry – 3 In. Stop, Aluminum Construction, Satin Nickel (Single Pack)
KEEP YOUR HOME SAFE – Designed to withstand 800 lbs. of force, this U 10827 satin nickel finish door reinforcement lock helps to prevent doors from being kicked in, increasing your home security and keeping you and your family safe!
EASY INSTALLATION – The included 3 inch hardened screws make installation a breeze – extra security and peace of mind can be achieved in just minutes. Watch the video on this page for installation tips and operating instructions.
ADDITIONAL HOME SECURITY – Use this high security door reinforcement lock for additional home security on any swing-in door of any thickness. It helps to ensure any door cannot be opened from the outside.
CHILD-SAFE AND TAMPER-RESISTANT – The spring-loaded design can be installed at a higher level, to ensure it is child-safe. Plus, while locked, this tamper-resistant door latch protects against the door being kicked in, lock picking and bumping.
2.   Reinforce Your Door Frame
Another way to ward off forceful entry: reinforce your door frame.
Whether you have wooden doors, steel doors, or metal doors, if your door frame isn't solid enough, your home may remain a target for criminals, even if you have sturdier doors in place.
Even if you've upped the security of your door jamb with a double strike plate, you still need to do more to safeguard your entry doors.
This is where the jamb shield comes into the picture.
You can readily get good frame reinforcement kits at your local hardware store. The good news is that, because they come ready to be installed out of the box, the process of putting them in place doesn't take much time.
Standard frame reinforcement kits come with metal enclosure strips that latch to your door hinges. The kit will come with other useful resources, like hinge shields, locked strike plates, and a host of other items you can use to boost the level of protection of your exterior doors.
3.   Make Sure Your Exterior Doors Have a Solid Core
While you can use glass doors and other flimsier doors inside the house, you want to make sure that your entry doors offer you real security.
For this to happen, its crucial that these commercial doors have a solid core. In the absence of this key feature, even if you know how to secure your door from being kicked in, this knowledge won't be of much help.
Why? Because even if you get additional locks that boast fast-riveted pins and a well-load reinforcement kit, their purpose is to complement the security that your entry doors already afford.
So, while it might be tempting to opt for hollow-core doors due to their affordability, please ensure that you only use these inside your home.
Any material you use for your entry doors must have a solid metal core if you prioritize your safety.
If you can't get your hands on doors with a solid metal core, just try to ensure that the variety of affordable steel doors, wood doors, or pine doors you opt for at least feature a solid core.
Otherwise, the door in question won't be able to hold up against any significant force attack. Hollow core doors are too weak to withstand any meaningful impact.
4.   Get a Strike Plate Lock
Most wooden doors and pine doors usually come with a standard door chain and base plate. While these are great for keeping your doors closed, they don't offer you much defense against kick-ins or attacks.
To get that extra level of protection, you need to look elsewhere. First, you need to remove your standard door chain and replace it with a high-quality, standard strike plate.
A strike plate affords you superior protection because it can withstand repeated assaults. Your old door chain, for example, will break after only a few kicks.
The good thing about installing a strike plate is that the process is simple and uncomplicated. You can install these in your entry doors in under one hour. All you need to do is find time to set it up.
5.   Get a Horizontal Security Bar
The last trick you need to know when it comes to how to secure a door from being kicked in is to get a horizontal security bar. Horizontal security bars do more for you than multiple additional locks.
One of the perks of using these security bars is that, since they're completely independent of your door and door jamb, they give you added security that complement the security features your door already has.
This steel bar door is ideal for combating forceful entry because it can easily withstand the powerful impact of even professional rams. You'll never have to worry about someone breaking down your door.
Horizontal security bars are also great for your home because they don't negatively impact the aesthetics of your home, like security grills can.
Lastly, you can install this mechanism yourself easily. All you need to do is use the two lag bolts that can pass through the jack studs. The jack studs you insert the lag bolts into are located in the door frame.
With that in place, all you need to do is slide the bar slots in place over your lag bolts and you're all set!
Sale
Added Security Features You Can Put in Place
In addition to all the work you do on and around your door, you can take the safety of your home to the next level.
You can up your security game by installing a burglar alarm, smart doorbells like the SkyBell Video Doorbell, and choosing from an array of security cameras. Where security cameras are concerned, it's a good idea to opt for outdoor motion-activated cameras.
Skybell HD WiFi Doorbell Camera 1080p Color Night Vision Bronze
Integration with home automation devices - i.e. set up rules to automatically turn on the porch lights when motion is detected at night
1080P, full color night vision, silence chime, on-demand video and recorded clips, two-way audio, motion sensor, multiple user capability
Final Thoughts
With a clear understanding of how to secure a door from being kicked in, you can keep yourself and your family safe. Don't go all out, though. You don't need to put every single one of these measures in place because applying even one is enough to deter the average criminal. So stay safe, and don't worry. To know more about how to keep yourself safe, see here.