We're in an age of innovation. You only have to look away for a moment before new slick tools appear on the market to displace existing ones. Such is the case with the traditional fire pit and the newer smoke-free fire pit devices.
To understand if this innovation is actually worth adopting, it's only prudent to ask: how does a smokeless fire pit work, anyway?
Gaining an in-depth understanding of the combustion mechanism of a smokeless fire pit can help you make a more informed decision when planning for future camping trips.
While conventional fire pits have indeed been around for quite a while, they often completely smoke out an entire area when you use them with pieces of firewood or other fuel sources.
But with the smokeless technology, advanced design, and superior flame control, you're afforded with a wide variety of smokeless and mini-smokeless fire pits. In other words, it's never been so hard to find excuses to stick with what you know.
Without further ado, let's find out more about what these smoke-free fire products have to offer!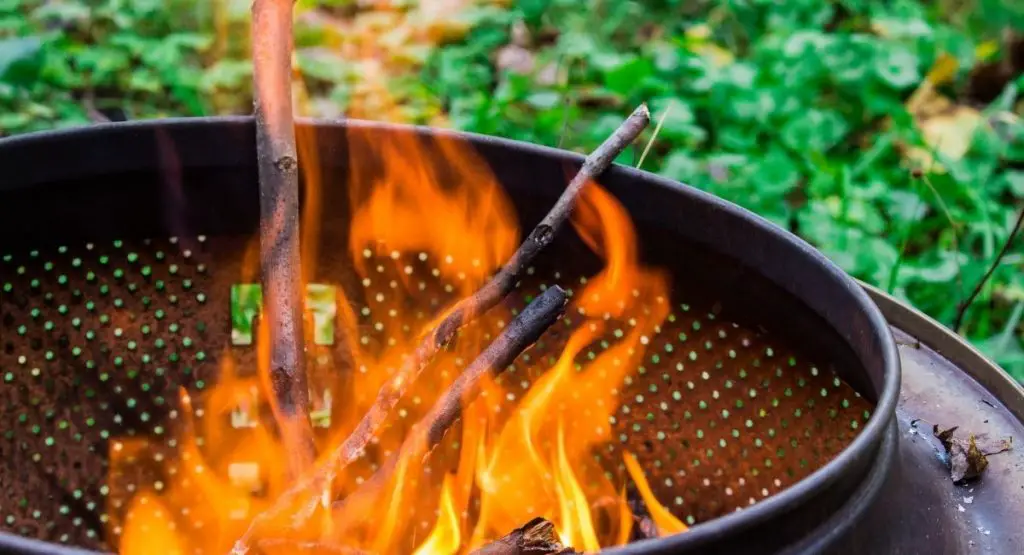 So, How Does a Smokeless Fire Pit Work?
A typical smokeless fire pit has an efficient design that optimizes the burning process, gets you a cleaner burn, and eliminates that pesky smoke.
Devices like the BioLite FirePit Outdoor Smokeless Fire Pit Grill and the Dakota Fire pit deliver the best in terms of radiant heat efficiency, fuel efficiency, and air quality. That being said, once you understand how a smokeless fire pit works, you can rig one up DIY-style!
With that in mind, let's peek behind the curtain to see how smoke-free technology really works!
As you know, with a traditional campfire, you have to deal with a lot of annoying smoke to get even a bit of heat. With a smokeless fire pit, you get more heat output virtually smokeless!
A smokeless fire pit achieves this through the installation of an efficient airflow system at the base of the fire pit. Thanks to its secondary combustion mechanism, it can generate plenty of heat without sacrificing fuel efficiency.
Any virtually smokeless smoke fire pit possesses double-walled convection. This lets air pass through the walls and allow barely visible smoke to move through.
As the regular firewood, or other fuel sources, burn, the primary combustion process of the setup ensures that there's a complete burn that helps the fire grow.
Now, unlike with a traditional fire pit where there is limited oxygen to maintain an efficient burn, the secondary air vent holes ensure that secondary combustion kicks in smoothly in the burn chamber.
That way, the fire generated from primary combustion is better fueled not just by real wood, but also by sufficient oxygen.
Again, another set of vent holes ensure that the wood smoke is dissipated covertly.
That is why you can warm your hands with the log fires of smoke-free fire products without worrying about coming away with that terrible pit smell from burning wood.
How Much Heat Does a Smokeless Fire Pit Generate?
The hallmark of any quality fire pit is the amount of warmth it produces. This is because you need sufficient heat transfer to keep your hands warm. The level of heat transfer also lets you know if it's an option for cooking basic foods.
Therefore, it's only natural to find out if smoke-free fit devices like the Dakota Fire pit and BioLite FirePit Outdoor Smokeless Fire Pit Grill deliver up enough fire to keep your hands warm and enjoy open-fire cooking once in a while.
You'll be happy to hear that, as a heat source, these devices do not disappoint.
The complete burning process it offers generates a radiant heat shield from the walls of the fire pit. This is more so the case when you use certain firewood types, like kiln-dried firewood logs, standard fire logs, or real wood logs, and the temperature burn results in a radiant heat that can get as high as 1000ºF.
This amazing temperature burn is further facilitated if the smoke-free fire products are made of materials like corten steel & stainless steel lid. What's more, most of these corten steel & stainless steel options for smoke-free fire pits are portable. So, it's convenient carrying them out for a backyard bonfire or spontaneous camping trips in the wilderness.
Also, the stainless steel design adds a measure of aesthetics to your campfire smoke that's appealing to many people.
BioLite FirePit Outdoor Smokeless Wood & Charcoal Burning FirePit and Grill (FirePit)
A smokeless wood-burning fire pit that can go from spark-to-fire in less than 30 seconds, cook your meals, and give you a front-row seat to everything going on inside your fire. Burn charcoal or wood for a hibachi-style grilling experience.
Airflow system has 4 fan speeds to control the intensity of your flames. Control fan intensity from the firepit's power pack or from the free BioLite energy app for Android and iOS
10, 400 mAh rechargeable battery power pack with USB outputs for charging your devices
Enjoy the feeling of a 360-degree floating fire with the firepit's X-ray mesh and up to 24 hour burn time
Does a Smoke-Free Fire Pit Smell?
You may be wondering: in addition to minimal smoke, does all this smokeless technology also come with less smell?
Well, the way a smokeless fire pit works ensures that you not only get a significantly reduced smoke output, but you can also use these outdoor fire pits without having to bother about the smell, as well!
With an original smokeless campfire pit, you get a patent-pending airflow technology that completely transforms your backyard experience. This is good news for a lot of reasons. Apart from ensuring that you'll be more inclined to have a backyard bonfire party now, this perfect fire pit also keeps you safer.
When you use an original smokeless campfire pit, the wood smoke from kiln-dried firewood or dry wood is considerably lower. The virtually smokeless effect that results from your backyard fires and outdoor cooking contains much fewer polycyclic aromatic hydrocarbons (PAH).
Convinced yet? We thought so.
The varying prices on smokeless fire pit devices help you get the right device for a perfect fire pit and keep yourself safe at the same time.
With no unpleasant burning scent spoiling the moment, you get to enjoy your family camping trip that much more. And, because devices like the Dakota fire pit are virtually smokeless, no smell or pesky smoke allergies will be triggered. Everyone stays happy.
Are Smokeless Fire Pits Hot Enough to Cook With?
Unlike with many conventional fire pits, you can use smokeless and mini smokeless backyard fire pits to cook all you want! The pit designs let you cook or grill easily.
The flame control also means that you can get even more into your cooking experience, no matter where you are. What's more, it gives you extra leeway to have more backyard events. Open-fire cooking and grilling are easy: all you have to do is slap a grill grate over your smokeless fire pit and you're good to go!
Whether it's the BioLite FirePit Outdoor Smokeless Fire Pit Grill, the Dakota Fire pit, or a wide variety of smoke-free fire products, you now have the opportunity to make more out of your outdoor experience.
INNO STAGE Stainless Fire Pit with Portable Carrying Storage Bag, Patented Smoke-Free Firepit Bowl for Wood Pellet with Stand for Outdoor Campfire Flame or Bonfire BBQ on Patio Garden Backyard - M
🔥Patented double wall design of fire pit bowl- efficient hotness without smoke🔥Maximizes airflow and burning process producing less smoke and more flame; Bottom vent holes allow oxygen while the double walls warm it. No more smoky clothes or holes in fabrics from sparks.
🔥Practical two-tier structure with specially added handle for campfire🔥This patio firepit is very easy to set up , just put 2 parts together. Portable handles make it possible to shake ash to keep air through. Easy to lift it up and attempt to dump the ash by bottom underlying tray when it cold.
🔥Fire pit is built from solid 304 stainless steel with pretty shape🔥 Which is high temperature resistance and antirust, more affordable than other regular steel or 430 stainless steel. Awesome looking & long lasting, safe and durable use for years.
🔥Handy size with portable carrying storage bag🔥Outer diameter 15"( inner diameter 11.4") X height 12.5". Firepit comes with waterproof linning - carrying bag, great for a small space,car camping or deck picnic.You can take it to anywhere you want.
How to Know if Smokeless Fire Pits Are Right for You
For all the innovative design and features of smokeless backyard fire pits, that doesn't make them right for you. Some things to consider before making that decision include:
If You Want a Higher Efficiency Burn
If you've been using conventional backyard fire pits, then chances are you already know a thing or two about how a good campfire should be.
So, if you're not satisfied with the temperature burn you get from those standard fire pits, then the services of a powerful combustion chamber might be just what you need.
The efficient design of the combustion chamber of smokeless fire pits affords you more heat for the same amount of fuel.
If You Want to Save Money
Another reason you might be better off with smoke-free products is that they don't demand you spend as much on fuel.
Optimized for the highest fuel efficiency, you can save more when you use these as opposed to traditional fire pits. In addition to that, what fuel you do get will last longer.
If You Want Less Smoke and Smell Around Your Campfire
For many people, that wood smoke is a huge part of the entire camping or outdoor cooking experience. In that case, there's no reason to change your backyard fire pit.
However, if you're tired of hair smell, or you want to ensure that you don't trigger any reactions from the guests at your barbecue and grill party, then consider a smokeless fire pit.
Last Word
How does a smokeless fire pit work, and do you really need one? Now that you have the answers to these questions, you have all the resources you need to shape your next outdoor experience. Smokeless fire pits take a lot of the stress and hazards out of backyard fires and camping trips. 
Are you wondering what other valuable resources you might be missing for the ultimate outdoor experience? See here to find out all you need to conquer the great outdoors!